Audi Brake Caliper 4A0615423 4A0615423X 342350
Product Detail
Company Profile
Product Tags
No.2 Building of Jiujie zone, Kunyang Town,Pingyang County, Wenzhou City, Zhejiang
+86 18857856585
+86 15088970715
Monday-Sunday: 9am to 12pm
Calipers. Calipers. And more calipers.
We specialize in calipers. We re-manufacture already used calipers and manufacture new ones. In both cases, we supply calipers which match or exceed the quality of the originals. When choosing materials, we pursue achieving a durability which exceeds the normal standard. By way of example, we use brass bushings instead of a cheaper alternative. We use hard chrome-plated pistons.
Reference No.
| | |
| --- | --- |
| A.B.S. | 520981 |
| BUDWEG CALIPER | 342350 |
| TRW | BHN138E |
| ATE | 24.3384-1709.5 |
| BOSCH | 0986473695 |
| Brake ENGINEERING | CA1474 |
Part List
| | |
| --- | --- |
| REPAIR KIT | D41941C |
| PISTON | 233815 |
| REPAIR KIT | 203829 |
| GUIDE SLEEVE KIT | 169103 |
| REPAIR KIT, PARKING BRAKE HANDLE | 2099363 |
| SEAL, PISTON | 183829 |
Compatible Applications
AUDI  100 Saloon (4A, C4)      (1990/12 - 1994/07)
AUDI  80 Saloon (89, 89Q, 8A, B3)      (1986/06 - 1991/10)
AUDI  100 Avant (4A, C4)      (1990/12 - 1994/11)
AUDI  90 (89, 89Q, 8A, B3)      (1987/04 - 1991/09)
AUDI  200 Saloon (44, 44Q)      (1983/06 - 1991/12)
AUDI  COUPE (81, 85)      (1980/07 - 1988/10)
AUDI  COUPE (89, 8B)      (1988/10 - 1996/12)
AUDI  A6 Saloon (4A, C4)      (1994/06 - 1997/10)
AUDI  CABRIOLET (8G7, B4)      (1991/05 - 2000/08)
AUDI  200 Avant (44, 44Q)      (1983/09 - 1991/12)
AUDI  A6 Avant (4A, C4)      (1994/06 - 1997/12)
What You Can Get from Our Factory
BIT's main business is the development and manufacturing of automotive brake-related products. As an independent brake specialized manufacturer, we develop and manufacture functional components such as brake calipers and accessories.
We have complete parts for disc brakes, such as brake caliper, bracket, piston, seal, bleeder screw, bleeder cap, guide pin, pin boots, pad clip and so on. Anything in the disc brakes, welcome to contact us to get the catalog.
By the way, we also have wide range catalogs for European, American, Japanese and Korean cars. Such as Audi, VW, BMW, Dodge, Chevy, Toyota, honda, KIA, Hyundai and so on. Find something what you want in our company.
We are a professional manufacturer of braking system. We have our own R & D and production team. Each product will be tested after production and tested again before delivery.
When the driver steps on the brake pedal, the power is amplified by the brake booster (servo system) and changed into a hydraulic pressure (oil-pressure) by the master cylinder. The pressure reaches the brakes on the wheels via tubing filled with brake oil (brake fluid). The delivered pressure pushes the pistons on the brakes of the four wheels. The pistons in turn press the brake pads, which are friction material, against the brake rotors which rotate with the wheels. The pads clamp on the rotors from both sides and decelerate the wheels, thereby slowing down and stopping the vehicle.
Quality and value is a common goal we share as a company. We are committed to face any challenges and see this as an opportunity to offer more novel solutions.
This led to many firsts in automotive innovations, as well as many design patents based on the futuristic approach. As a manufacturer of brake calipers, you can rely on us to bring a revolutionary brake caliper product line. With the following advantages, you can be confident that you are getting the best and finest service in the market. In order to assure you our quality, we approved the IATF 16949 Certificate in 2016.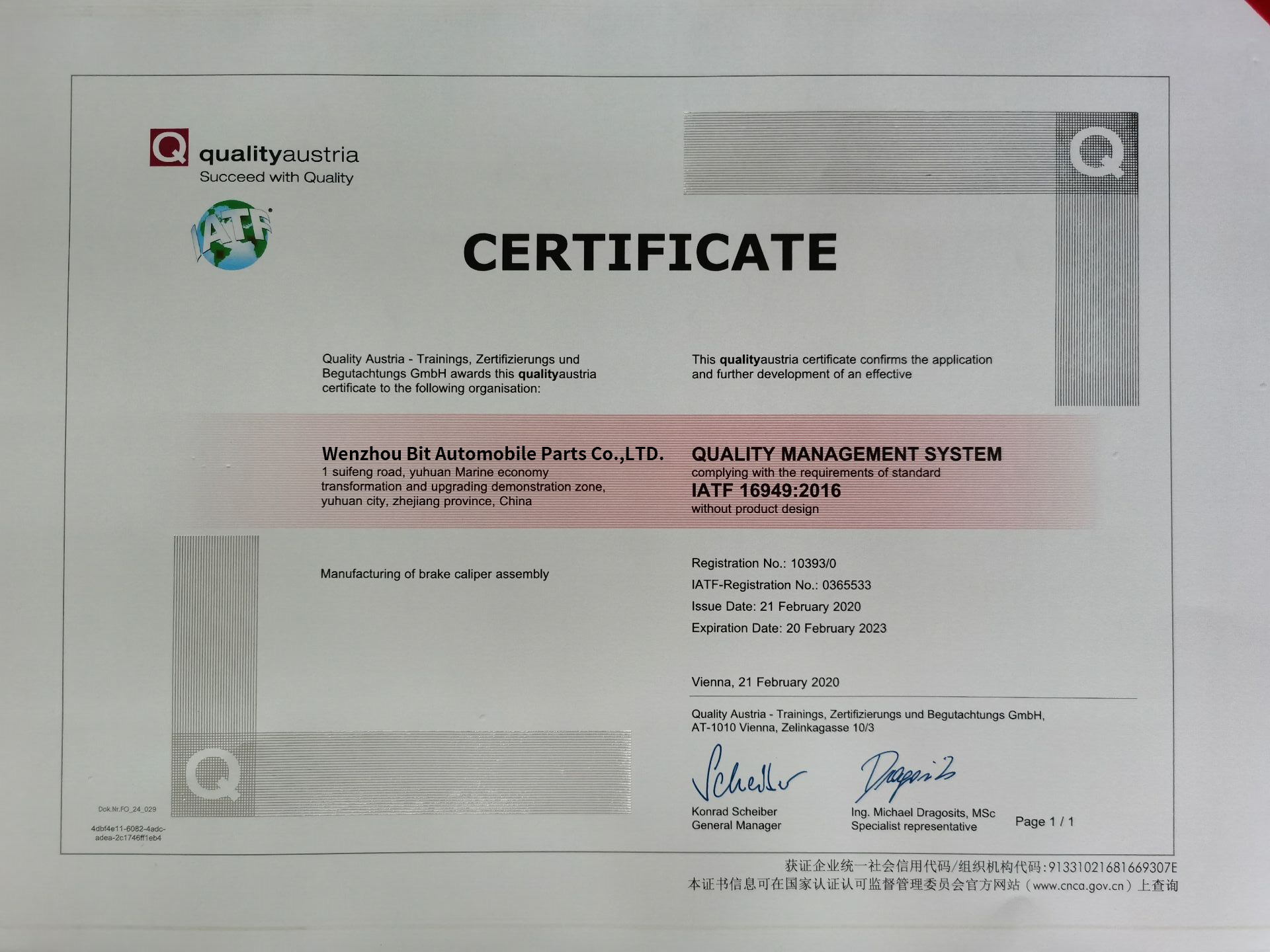 ---
Previous:
VW Seat Brake Caliper 1H0615424
---
Write your message here and send it to us