Brake Caliper 4401C8 9464216180 71728817 FOR FIAT LANCIA CITROEN PEUGEOT
Product Detail
Company Profile
Product Tags
No.2 Building of Jiujie zone, Kunyang Town,Pingyang County, Wenzhou City, Zhejiang
+86 18857856585
+86 15088970715
Monday-Sunday: 9am to 12pm
Reference No.
| | |
| --- | --- |
| A.B.S. | 529451 |
| BUDWEG CALIPER | 343662 |
| TRW | BHN353E/ BHN353 |
| ATE | 24.3384-1761.7 |
| BOSCH | 0986134367 |
| Brake ENGINEERING | CA2602 |
Part List
| | |
| --- | --- |
| REPAIR KIT | D4846C |
| PISTON | 233815 |
| REPAIR KIT | 203843 |
| SEAL, PISTON | 183843 |
Compatible Applications
PEUGEOT 807 (E)      (2002/06 - /)
FIAT ULYSSE (179AX)      (2002/08 - 2011/06)
LANCIA PHEDRA (179)      (2002/09 - 2010/11)
CITROEN C8 (EA_, EB_)      (2002/07 - /)
FAQS
1.What are your prices?
Our prices are subject to change depending on supply and other market factors. We will send you an updated price list after your company contact us for further information.
2.Do you have a minimum order quantity?
Yes, we require all international orders to have an ongoing minimum order quantity. Generally speaking, the minimum order quantity for regular products is 30pcs, and some products are 100pcs. Small trial orders are also acceptable.
3.What is the average lead time?
For samples, the lead time is about 7 days.
For mass production, the lead time is 25-35 days after receiving the deposit payment. The lead times become effective when we have received your deposit and your final approval for your products.
What You Can Get from Our Factory
BIT's main business is the development and manufacturing of automotive brake-related products. As an independent brake specialized manufacturer, we develop and manufacture functional components such as brake calipers and accessories.
We have complete parts for disc brakes, such as brake caliper, bracket, piston, seal, bleeder screw, bleeder cap, guide pin, pin boots, pad clip and so on. Anything in the disc brakes, welcome to contact us to get the catalog.
By the way, we also have wide range catalogs for European, American, Japanese and Korean cars. Such as Audi, VW, BMW, Dodge, Chevy, Toyota, honda, KIA, Hyundai and so on. Find something what you want in our company.
We are a professional manufacturer of braking system. We have our own R & D and production team. Each product will be tested after production and tested again before delivery.
When the driver steps on the brake pedal, the power is amplified by the brake booster (servo system) and changed into a hydraulic pressure (oil-pressure) by the master cylinder. The pressure reaches the brakes on the wheels via tubing filled with brake oil (brake fluid). The delivered pressure pushes the pistons on the brakes of the four wheels. The pistons in turn press the brake pads, which are friction material, against the brake rotors which rotate with the wheels. The pads clamp on the rotors from both sides and decelerate the wheels, thereby slowing down and stopping the vehicle.
Quality and value is a common goal we share as a company. We are committed to face any challenges and see this as an opportunity to offer more novel solutions.
This led to many firsts in automotive innovations, as well as many design patents based on the futuristic approach. As a manufacturer of brake calipers, you can rely on us to bring a revolutionary brake caliper product line. With the following advantages, you can be confident that you are getting the best and finest service in the market. In order to assure you our quality, we approved the IATF 16949 Certificate in 2016.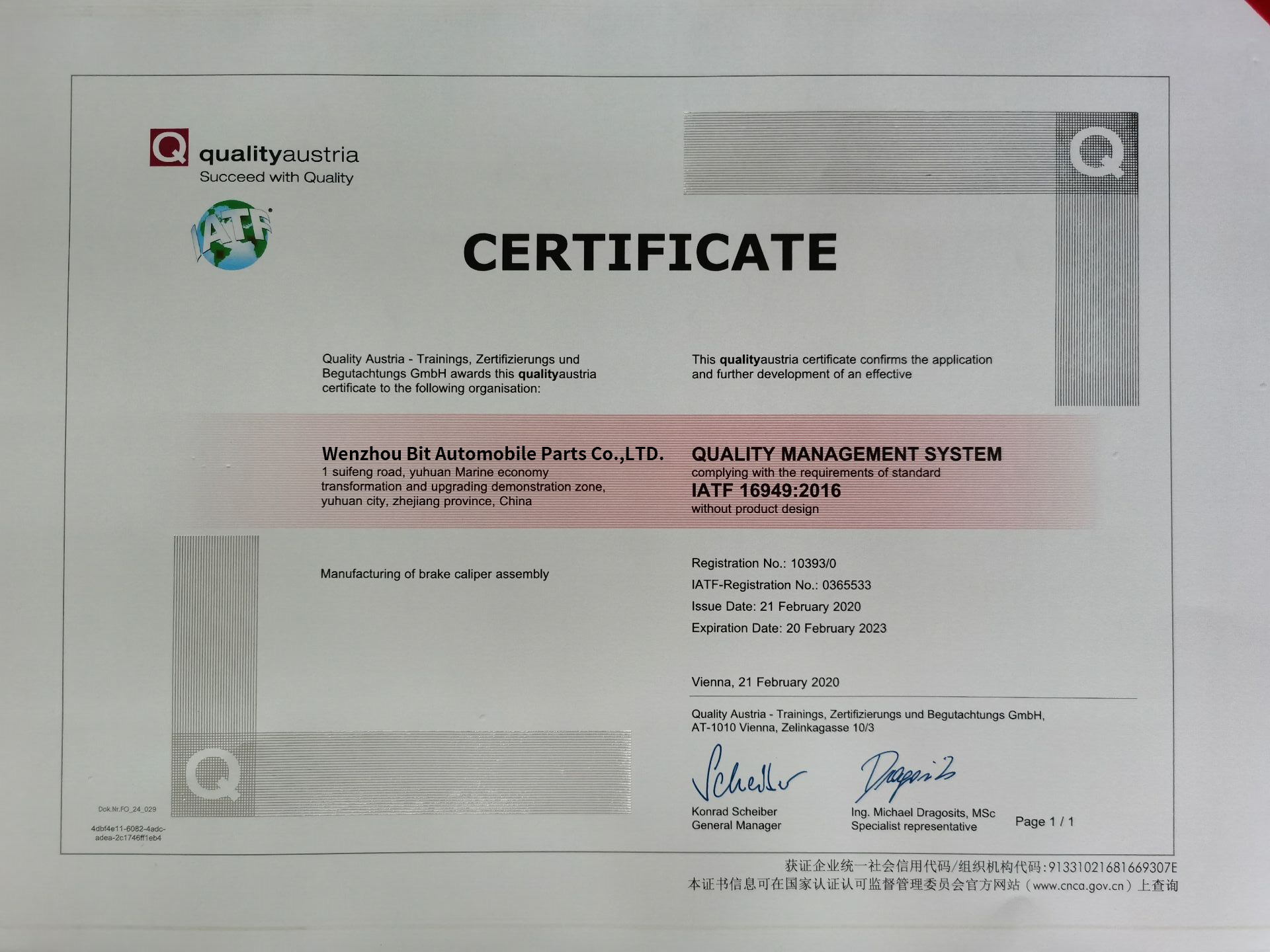 ---
---
Write your message here and send it to us