Brake Caliper 45018SDAA01 45018SDAA02 45018SDCA00 45018SDCA01 19B2661 for Acura Honda
Product Detail
Company Profile
Product Tags
No.2 Building of Jiujie zone, Kunyang Town,Pingyang County, Wenzhou City, Zhejiang
+86 18857856585
+86 15088970715
Monday-Sunday: 9am to 12pm
Interchanges No.
ER1695KB ABSCO
18FR2147 AC-DELCO
99-00943A BBB INDUSTRIES
077-1658S BECK/ARNLEY
19-B2661
19B2661
SLC9856 FENCO
45018-T2F-A00 HONDA / ACURA
10-05288-1 PROMECANIX
10-05310-1 PROMECANIX
FRC11426 RAYBESTOS
CRB134585 WAGNER
99-00943A WILSON
SC3818 DNS
105159S UCX
Compatible Applications
Acura ILX 2013-2015 Front Right
Honda Accord 2003-2017 Front Right
Honda Civic 2013-2020 Front Right
Honda CR-Z 2016 Front Right
Honda Fit 2013-2014 Front Right
WHY CHOOSE BIT?
We are not the cheapest choice in the market but is the professional supplier.
Quality comes at a price. And because we do not compromise, we do not aim to be the cheapest in the market. You can take pleasure from that. Because if you want to sell quality products, using our calipers will ensure that you achieve a greater turnover and greater earnings per unit. At the same time, you have more satisfied customers.
What You Can Get from Our Factory
BIT's main business is the development and manufacturing of automotive brake-related products. As an independent brake specialized manufacturer, we develop and manufacture functional components such as brake calipers and accessories.
We have complete parts for disc brakes, such as brake caliper, bracket, piston, seal, bleeder screw, bleeder cap, guide pin, pin boots, pad clip and so on. Anything in the disc brakes, welcome to contact us to get the catalog.
By the way, we also have wide range catalogs for European, American, Japanese and Korean cars. Such as Audi, VW, BMW, Dodge, Chevy, Toyota, honda, KIA, Hyundai and so on. Find something what you want in our company.
We are a professional manufacturer of braking system. We have our own R & D and production team. Each product will be tested after production and tested again before delivery.
When the driver steps on the brake pedal, the power is amplified by the brake booster (servo system) and changed into a hydraulic pressure (oil-pressure) by the master cylinder. The pressure reaches the brakes on the wheels via tubing filled with brake oil (brake fluid). The delivered pressure pushes the pistons on the brakes of the four wheels. The pistons in turn press the brake pads, which are friction material, against the brake rotors which rotate with the wheels. The pads clamp on the rotors from both sides and decelerate the wheels, thereby slowing down and stopping the vehicle.
Quality and value is a common goal we share as a company. We are committed to face any challenges and see this as an opportunity to offer more novel solutions.
This led to many firsts in automotive innovations, as well as many design patents based on the futuristic approach. As a manufacturer of brake calipers, you can rely on us to bring a revolutionary brake caliper product line. With the following advantages, you can be confident that you are getting the best and finest service in the market. In order to assure you our quality, we approved the IATF 16949 Certificate in 2016.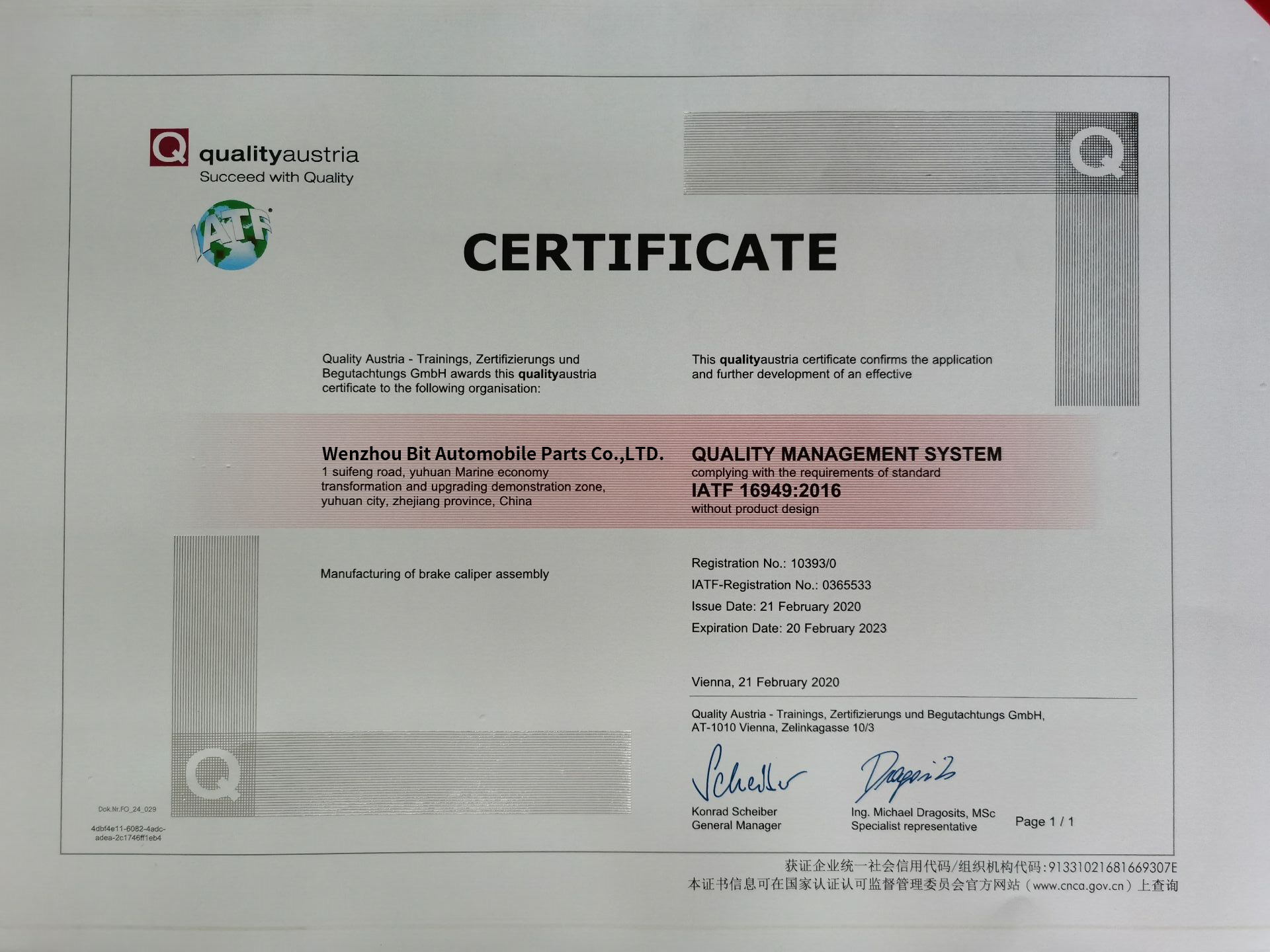 ---
Previous:
Brake Caliper 45019TA0A00 45019TA5A00 45019SDAA01 45019SDAA02 45019SZW000 45019T2FA00 19B2660 for Acura Honda
---
Write your message here and send it to us