BIT 80A615404D 80A615404DSL7 8W0615404A 8W0615404H 8W0615404NSL7 Electric Park Brake AUDI
Product Detail
Company Profile
Product Tags
No.2 Building of Jiujie zone, Kunyang Town,Pingyang County, Wenzhou City, Zhejiang
+86 18857856585
+86 15088970715
Monday-Sunday: 9am to 12pm
What is Electronic parking brake?
An electronic parking brake (EPB), also known as an electric park brake in North America, is an electronically controlled parking brake, whereby the driver activates the holding mechanism with a button and the brake pads are electrically applied to the rear wheels. This is accomplished by an electronic control unit (ECU) and an actuator mechanism. There are two mechanisms that are currently in production, Cable puller systems and Caliper integrated systems. EPB systems can be considered a subset of Brake-by-wire technology.
Functionality
Apart from performing the basic vehicle holding function required of park brakes, the EPB systems provide other functions like automatic release of the park brakes when the driver presses the accelerator or slips the clutch, and re-clamping using additional force on detection of vehicle motion. Further, the hill-hold function, which applies brakes to prevent roll-back when pulling away on a gradient, can also be implemented using the EPB.
Compatible Applications
AUDI A4 (8W2, B9) 2015-
AUDI A4 Avant (8W5, B9) 2015-
AUDI A5 (F53) 2016-
AUDI A5 Sportback (F5A) 2016-
AUDI A6 (C8, 4A2) 2018-
AUDI A6 Allroad (4AH, C8) 2018-
AUDI A6 Avant (C8, 4A5) 2018-
Equipment for EPB Caliper & Actuator
We have complete range of brake parts, such as Brake Calipers, Electric Parking Brake, Actuators and so on. We have some equipment to test the quality when manufature and after manufaturing. Such as Cable input output force test, EPB Caliper Durability test and High and low voltage test.
EPB Actuator is important in passenger vehicles as it allows drivers to activate a holding system to keep the vehicle stationary on grades and flat roads.
Our Electric Park Brakes:
Offer an improved drive comfort

Allow greater freedom in vehicle interior design

In caliper integrated systems, provide connection between hydraulic actuation of the foot brake and electrically actuated parking brake

Ensure optimum brake power in all conditions and reduce installation time due to the absence of hand brake cables
What You Can Get from Our Factory
BIT's main business is the development and manufacturing of automotive brake-related products. As an independent brake specialized manufacturer, we develop and manufacture functional components such as brake calipers and accessories.
We have complete parts for disc brakes, such as brake caliper, bracket, piston, seal, bleeder screw, bleeder cap, guide pin, pin boots, pad clip and so on. Anything in the disc brakes, welcome to contact us to get the catalog.
By the way, we also have wide range catalogs for European, American, Japanese and Korean cars. Such as Audi, VW, BMW, Dodge, Chevy, Toyota, honda, KIA, Hyundai and so on. Find something what you want in our company.
We are a professional manufacturer of braking system. We have our own R & D and production team. Each product will be tested after production and tested again before delivery.
Quality and value is a common goal we share as a company. We are committed to face any challenges and see this as an opportunity to offer more novel solutions.
This led to many firsts in automotive innovations, as well as many design patents based on the futuristic approach. As a manufacturer of brake calipers, you can rely on us to bring a revolutionary brake caliper product line. With the following advantages, you can be confident that you are getting the best and finest service in the market. In order to assure you our quality, we approved the IATF 16949 Certificate in 2016.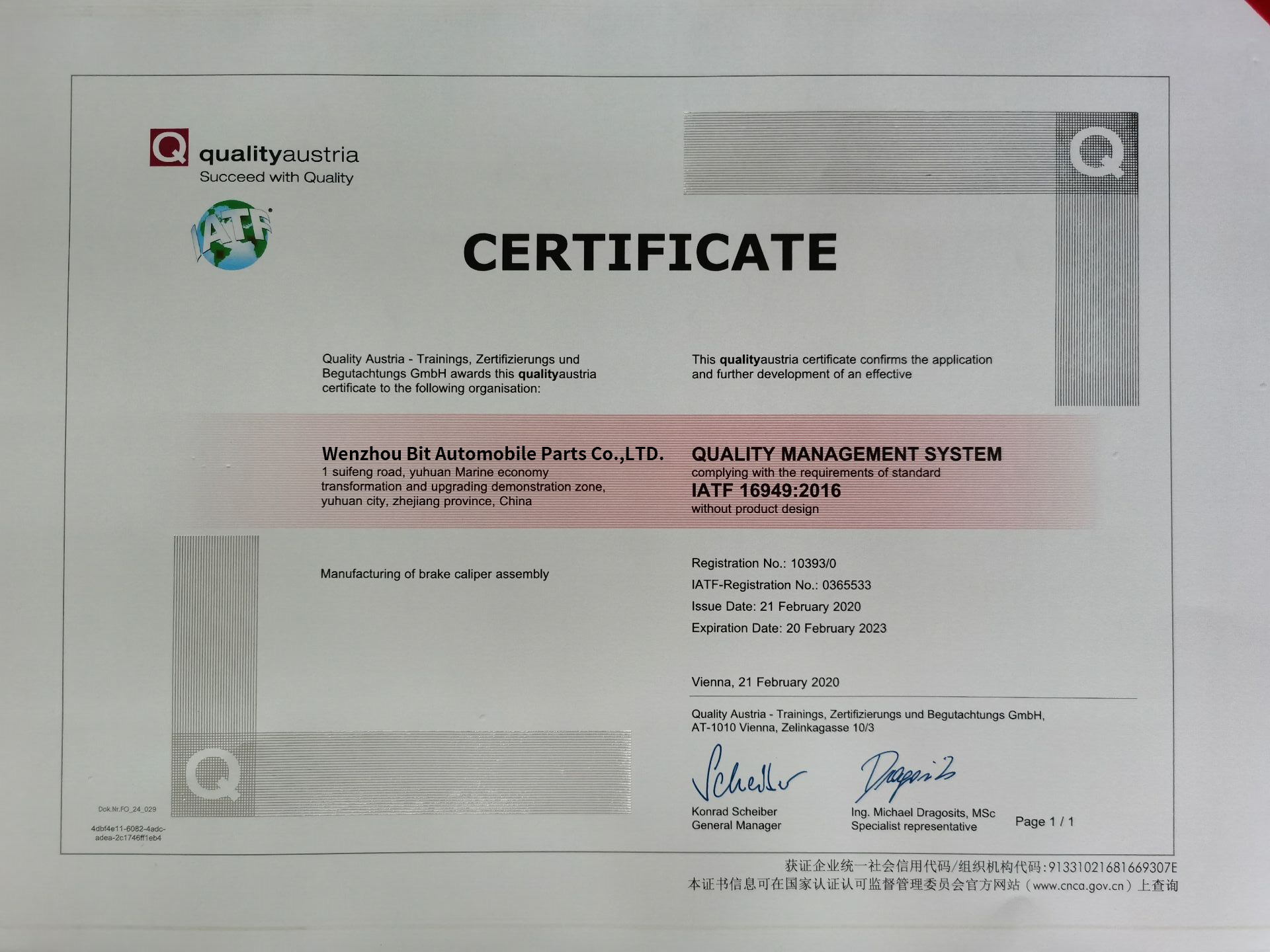 ---
Previous:
BIT Electric Park Brake System 80A615403A 80A615403D 80A615403DSL7 80A615404A 8W0615403A 8W0615403H 8W0615403NSL7 EPB AUDI
Next:
BIT Electric Parking Brake 8W0615403 8W0615403G 8W0615403M 8W0615403MQC8 8W0615403MSL7 for AUDI
---
Write your message here and send it to us